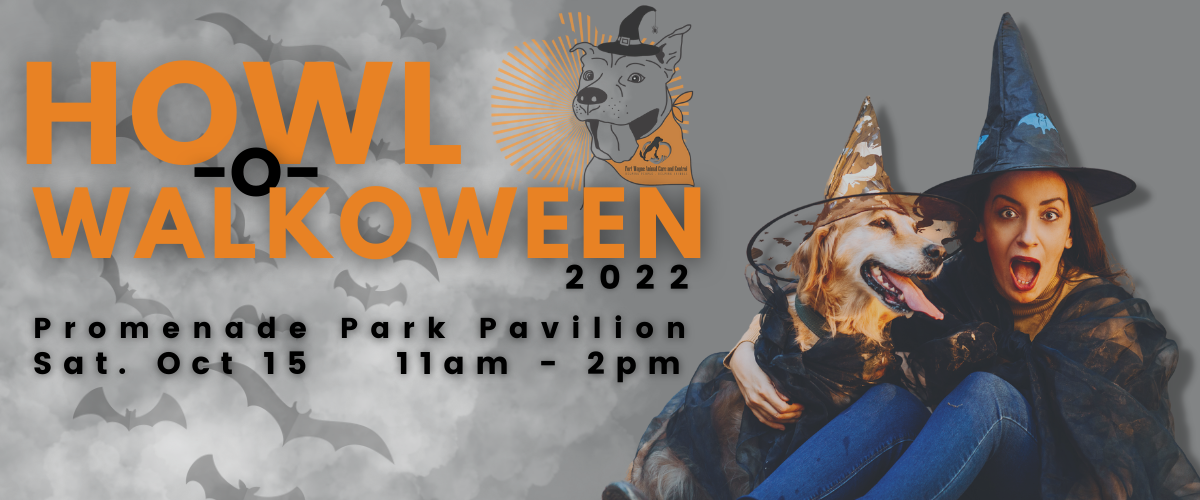 Support Humane Education at Fort Wayne Animal Care & Control While
Having a SpoOoOky Good Time!
WHAT
Pets welcome at the most fun Halloween event in Fort Wayne! The Howl-o-Walkoween will feature a pet costume contest and walk through beautiful Promenade Park! We'll also have raffle prizes, pet and family portraits taken by the talented Ruth Yaro Photography, snacks and music! Want to grab some FWACC swag? Be sure to get a t-shirt or sweatshirt from our clothing fundraiser designed by Sarah High of Graphics by Sarah Nicole.
WHEN
Mark your calendars because all the fun starts Saturday, October 15th from 11 am to 2 pm! The t-shirt and sweatshirts can be purchased anytime online.
WHERE
This year's party will be downtown at beautiful Promenade Park in the pavilion 202 W Superior St, Fort Wayne, IN 46802.
WHY
The goal of the Howl-o-Walkoween is to raise funds to bolster our Humane Education Department's programs in and effort to reach more children in our community and end animal cruelty and neglect.
Each year we feature an animal that has a great impact on the staff at Fort Wayne Animal Care & Control. This year'd guest of honor for the Howl-o-Walkoween is Daisy. Daisy is a two-year-old Golden Retriever mix who came to the shelter earlier this year from a neglectful situation. Left for weeks without food or water, she was so weak she could not stand on her own. After several weeks of intensive care at the shelter she was strong enough to go to a foster home. After gaining more strength in a foster home, Daisy was adopted. She is now happy, healthy and in a loving home with her new family.
We believe that by teaching children empathy, compassion and kindness we can create a more humane community and prevent future stories like Daisy's.