The budget is developed on a departmental basis. Both the dollar amounts and the number of positions are submitted by the Administration to the Council, along with detailed accounts of appropriation requests and other relevant information; such as, statements of goals and objectives.
The 2005 budget is $9,782,189 or 6.1%, higher than the approved budget for 2004. The increase is due to the anticipated needs for an expanding Fort Wayne City.
The Fire department's budget is up 5.8%. The Police department's budget is up 7.6%. These increases support the Mayor's commitment for a safe city.
The 2005 Executive and Legislative overall budgets are up 4.1% over the 2004 budget.
Finance shows a .5% increase in the 2005 versus 2004 budget. The majority of the increase is with information systems. Maintaining and upgrading computer systems is essential for productive and efficient government.
Community Development has been able to lower their budget by .8%, while initiating and continuing several economic development and urban renewal projects for 2005.
The Department of Public Works also increased their overall budget for 2005. The 7.5% increase reflects the commitments to provide better streets, services, and economic development to the City of Fort Wayne.
The Parks and Recreation department's increased their budget by 2.1%.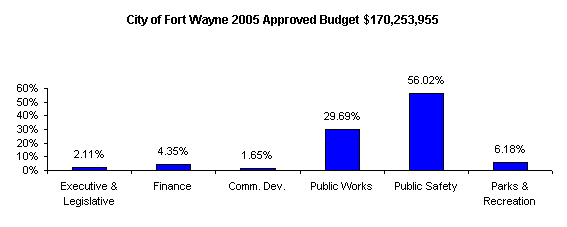 City of Fort Wayne
Budget by Department
2004
2005
Approved
Approved
%
Budget
Budget
Change
Executive & Legislative
*
Mayor's Office
$
877,580
$
894,834
2.0%
*
Office of Internal Audit
199,877
198,017
-0.9%
*
Law Office
431,513
480,697
11.4%
City Clerk/Parking Control
444,213
471,356
6.1%
*
City Clerk & City Council
813,110
838,436
3.1%
*
Human Resources
685,469
708,828
3.4%
Total
$
3,451,762
$
3,592,168
4.1%
Finance
*
Controller's Office
$
1,277,319
$
1,254,134
-1.8%
Cumulative Capital Improvement
1,401,820
1,134,131
-19.1%
*
Property Management
1,242,660
1,205,509
-3.0%
*
Payroll
228,587
236,835
3.6%
*
Information Systems (ACS)
2,628,435
2,991,999
13.8%
*
Purchasing/Office & Administration
585,463
581,410
-0.7%
Total
$
7,364,284
$
7,404,018
0.5%
Community Development
Administration (Combined with Comm. Dev. in 2005)
$
124,581
$
0
-100.0%
Economic Development (Combined with Comm. Dev. In 2005)
626,415
0
-100.0%
*
Redevelopment Commission
315,871
415,553
31.6%
Redevelopment Distr. Capital
571,320
488,800
-14.4%
*
Community Development
1,194,909
1,904,943
59.4%
Total
$
2,833,096
$
2,809,296
-0.8%
Department of Public Works
*
City Engineer
254,418
265,419
4.3%
*
Flood Control
382,869
283,070
-26.1%
*
Transportation Engineering Services
1,099,388
1,104,500
0.5%
Street Project Management/MVH
895,286
902,981
0.9%
Street Department/MVH
8,684,442
9,490,214
9.3%
Traffic Engineering Administration
463,656
469,363
1.2%
Traffic Engineering/LRS
2,502,203
2,398,753
-4.1%
*
St. Light Engineering
2,932,722
2,731,043
-6.9%
Solid Waste Management
6,580,611
7,987,746
21.4%
*
Sanitary Officers Pension
498,900
525,957
5.4%
*
Right of Way
295,579
312,836
5.8%
EDIT Income Tax Fund
19,223,841
20,770,651
8.0%
*
Board of Works
2,438,611
2,590,108
6.2%
Cable Television
794,000
719,600
-9.4%
Total
$
47,046,526
$
50,552,241
7.5%
Public Safety
*
Police
$
37,261,182
$
40,095,022
7.6%
*
Police Merit
2,950
27,500
832.2%
*
Domestic Violence
7,300
7,300
0.0%
Law Enforcement Training
170,000
196,000
15.3%
*
Police Pension
7,855,743
8,460,702
7.7%
*
Fire
27,806,162
29,426,847
5.8%
*
Fire Pension
7,167,899
7,352,950
2.6%
*
Communications
4,908,725
5,400,897
10.0%
*
Animal Control
1,936,604
2,067,601
6.8%
*
Weights & Measures
122,991
126,596
2.9%
*
Neighborhood Code ( In 2004 this was under Comm. Dev.)
1,488,499
1,443,777
-3.0%
*
Unsafe Building ( In 2004 this was under Comm. Dev.)
142,000
159,000
12.0%
*
Metro Human Relations
602,735
613,440
1.8%
Total
$
89,472,790
$
95,377,632
6.6%
Parks & Recreation
*
Parks & Recreation General
$
10,303,308
$
10,518,600
2.1%
Total Civil City Budget
$
160,471,766
$
170,253,955