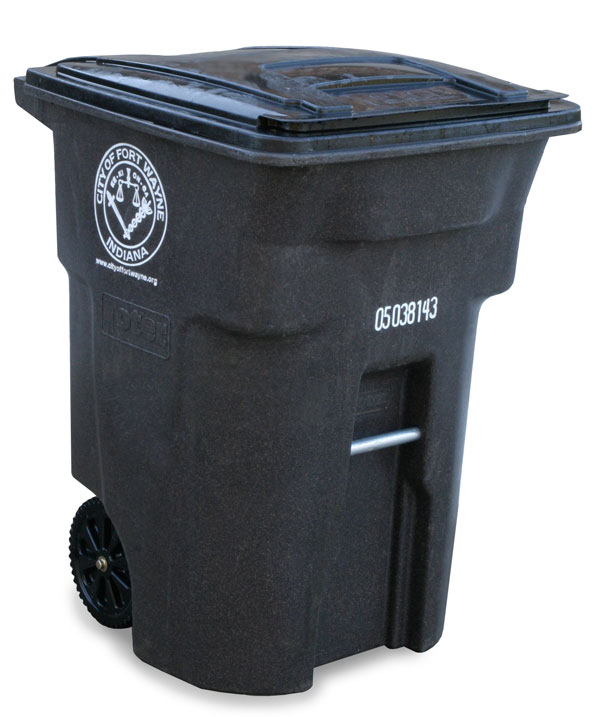 Residential Garbage Collection REMINDERS:
The City of Fort Wayne contracts with Red River Waste Solutions to collect residential garbage. Garbage is collected one per week in your neighborhood. To determine your collection day click here .
The city will provide one 96 gallon or 48 gallon cart to each household for garbage collection. Additional carts are available and rent for $2.00/month.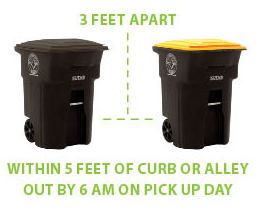 Extra garbage, not in city carts, must be in 33 gallon trash containers, plastic bags, bundles (not to exceed 60 pounds). DO NOT place extra garbage in cardboard boxes.
Carts are the property of the City and must be left at the service address in the event the resident moves.
Residents are charged $12.00/month for garbage, recycling and leaf removal; multi-family units pay $24.00/month.
Do not set out curbside garbage sooner than noon the day prior to collection. Containers must be removed from the curb no later than noon the day after collection. Containers must be stored inside or on the side of the house 10 feet from the front of the house. Carts also need to be with 5 feet of the alley or curb.
Bulky Items
Heavy furniture and non-freon appliances are to be placed with the regular garbage for collection. These large items will be collected the following day with a different truck. It is not necessary to call 311 for bulk items.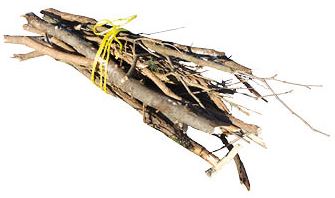 Yard Waste
Except for leaves, yard waste can be placed with the garbage. Grass clippings can be bagged in plastic bags or placed loose in the 96-gallon cart. Branches must be no longer than 3 feet in length and no larger than 3 inches in diameter. Branches need to be bundled and/or containerized and not exceed 60 pounds.
NO LEAVES CAN BE DISPOSED OF WITH THE GARBAGE.
Leaf pick up typically occurs two times a year during the months of October through December. An announcement will be made through the media as to the exact dates when this will occur. During this time, you may call 311 to learn your day of pick up and have your leaves raked to the curb or edge of your property. The Street Department will pick these up at or as close to the designated time as possible, weather permitting. If you would rather place your leaves in bio degradable yard waste bags, you may call 311 to have these bags collected within two business days during the fall leaf pickup period only.
Starting in 2020, as an additional convenience to residents, we will be scheduling spring leaf pick-ups of bio degradable bags only. We will announce the dates each year of when this spring leaf pick-ups will occur. These leaf bags are to be placed by the curb or edge of your property. During this spring leaf pick up period, do not rake your leaves to the curb or edge of your property.
While state law does not allow leaves in the landfill, it does allow you to mix a de minimis amount of leaves with other yard waste in your garbage cart, for collection.
Outside of the fall and spring leaf pick up periods, residents are encouraged to take yard waste to the following compost site:
FORT WAYNE BIOSOLIDS HANDLING FACILITY

6202 Lake Avenue
Fort Wayne, IN 46815
Phone: (260) 427-5535
Hours: April 1-November 30
Mon-Sat 8am-6pm, Sun 12pm-6pm
December 1-March 31 Mon-Fri 7am-3pm
**Fees do apply**
Construction & Remodeling Debris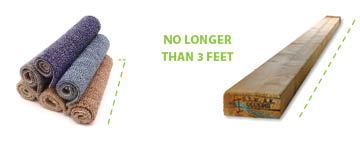 Alimit of 60 pounds per week of construction debris can be set out with garbage collection. This material must be containerized or in 3 foot sections and/or bundled/tied. Glass windows must be taped to help prevent breakage. Carpet must be cut into 3 feet sections, rolled-up and tied.Recycle options for C&D.
DO NOT Include With Your Garbage
No automotive parts
No railroad ties
No boats
No patio or entry doors
No riding lawn mowers
No medical waste
No basketball hoop poles
No leaves
No refuse in cardboard boxes
No hot tubs or tanning beds
No bathtubs
No pianos
For information on how to dispose of items that cannot go into the garbage cart visit the Allen County Solid Waste Management District