There are so many ways you can help the animals at Fort Wayne Animal Care & Control. Whether you decide to donate items from our wish list, make a donation to a fund listed below, or your time - we are all grateful here at the shelter!
Click HERE to donate now
Donating to Fort Wayne Animal Care & Control
Animal Care Fund: Administered by the Animal Control Commission, a citizens' advisory commission appointed by the mayor and city council - this account is appropriate for wills, bequests and donations towards broader shelter projects supporting all divisions of our department. If you would like to help but aren't sure where to direct your funds the commission will ensure they are spent responsibly through the Animal Care Fund.
Angel Fund: Donations to our Angel Fund create lifesaving options for the animals in our care who have advanced medical needs including broken bones, heartworm disease and dental disease, or extra care due to cruelty or neglect. This fund also covers basic medical needs and provides preventative care through vaccines, veterinary services, medical supplies and equipment need for enforcement purposes.
Adoption Fund: Donations to our Adoption Fund enable us to purchase much needed items for the comfort, mental stimulation, training and placement of adoptable animals. This fund is also used to help train, recruit and purchase supplies for our volunteers and fosters who selflessly donate their time and energy to help save and enrich the lives of the many animals in our care.
Community Outreach: Our presence throughout the community, in schools, youth centers, libraries, in the media and the Web are made possible by donations. Donations to this fund help us provide education to promote kindness and compassion toward animals, prevent animal cruelty and neglect, promote adoptions, increase responsible pet guardianship, provide humane education programs, seminars, and keep children safe through animal safety education.
Critter Care Fund: Donations to this fund help us provide items to enrich the lives of the stray and adoptable animal population in our care. This fun also helps us provide special food for small animals, farm animals, and wildlife as well as providing straw and outdoor housing for our community cat program, and various other specialty items to assist with the care of the animals.
Pet Retention Fund: Our Pet Retention Fund helps Fort Wayne families maintain care of their pets should they temporarily fall on difficult times. Through support with spay and neuter assistance and minor preventative care needs we can keep pets with their families and out of the shelter.
---
Looking to donate goods?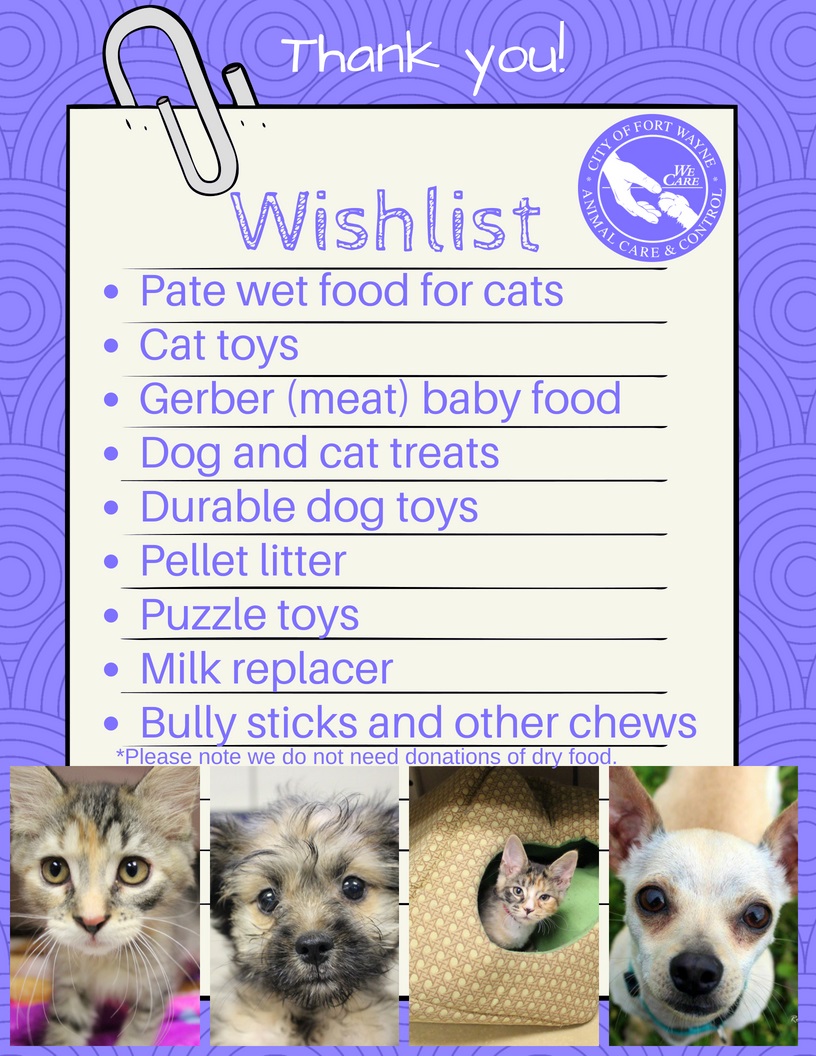 Check out our Amazon Wish List. (Note: we do not endorse specific brands, the items on the list are the TYPES of items we need. Feel free to buy whatever brand you prefer.)
Note: In an effort to keep pets and owners together, we transfer donations of unopened dry pet food to the Pet Food Pantry and refer citizens in need of food assistance.
---
We now accept automatic recurring donations!
We are pleased to announce that you can now set up automatic monthly, semi-annual, or annual donations to FWACC with a credit card. If you are interested in this option click here to fill out the form.
Looking to donate your time? Click HERE to learn about volunteer opportunites at the shelter.