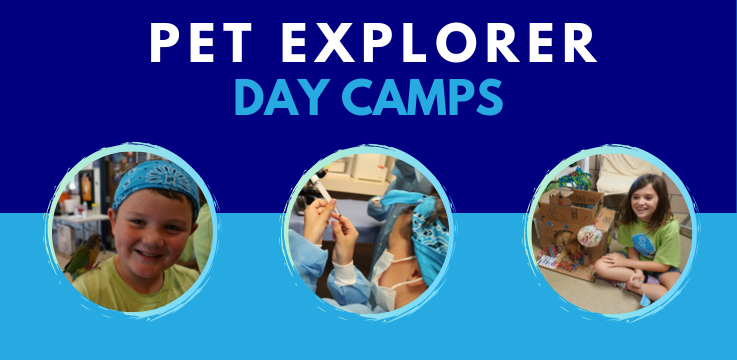 2022 Camp Dates
Spring Break One-Day Camps (Registration to open in March)
Monday, April 4 (ages 6-8)
Tuesday, April 5 (ages 6-8)
Wednesday, April 6 (ages 9-12)
Thursday, April 7 (ages 9-12)
Summer Camps (Check back for registration dates)
June 6-10 (ages 6-8)
June 13-17 (ages 6-8)
June 20-24 (ages 9-12)
July 11-15 (ages 9-12)
July 18-22 (ages 9-12)
July 25-29 (ages 9-12)
Fallin' For Pets Fall Break Camps
TBD
Pet Explorer Day Camps are a great opportunity for kids 6 to 12 years old learn all about the shelter! During the summer we have one week camp options available. Spring Break brings one-day camp options for your kiddos.
A typical day at camp includes learning about the shelter, exploring animal-related careers, making treats for the animals in our care, playing games, crafts and of course - ANIMALS!
TEEN BUDDIES
Teens 13 to 17 years old can apply to be Teen Buddies to assist with summer camps. Teen Buddies serve as role models for campers, assist camp counselors with cleaning and prepping activities and help supervise the campers during animal interactions. Teen Buddies do not do any direct animal handling. Check back for more information about how to apply Spring of 2022.
Over the Counter Medication Form