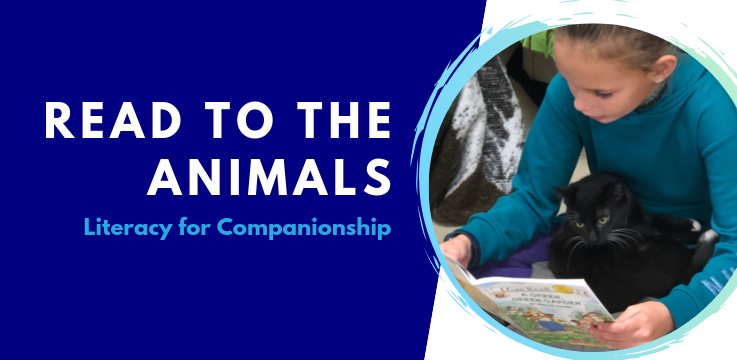 This exciting opportunity allows children ages 5-12 to read to cats, kittens, and small animals like rabbits and guinea pigs waiting on their forever homes. Read to the Animals is a program at the shelter partnered with Literacy for Companionship Inc., a local non-profit that aims to bring children and pets together through the joy of reading. FWACC's Humane Education Department's mission is to teach children empathy and kindness through animals, so the partnership is a perfect addition to our line up of existing programs.
This FREE program is held here at the shelter, 3020 Hillegas Rd. Please enter in the doors to the right of the building.
Please note that children will not be reading to the dogs since the dogs become anxious with someone sitting in front of their kennel and begin to bark non-stop due to wanting out. With the loud barking, it is difficult for readers to focus or even hear themselves and can be stressful for all involved.
(Registration will go live the first weekday of each month at NOON)
30 minute time slots from 3 p.m. - 5 p.m.
Upcoming Dates:
Monday, September 27
Monday, October 25
Monday, November 22
Monday, December 27
We do provide a large array of books to choose from, but children are welcome to bring their own books as well. Parents or guardians may sit in the room with their child while they read, wait in the shelter's lobby, or wait in their car.
Questions? Contact the Humane Education department at This email address is being protected from spambots. You need JavaScript enabled to view it.